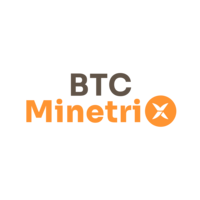 Bitcoin Minetrix
Hot
Bitcoin Minetrix is the first Stake-to-Mine ERC-20 token! Launching as an ICO presale, Bitcoin Minetrix will reshape the cloud mining space, allowing users to safely and efficiently Cloud Mine Bitcoin and get rewarded for it.
ICO Details
Presale Start Date
September 25th, 2023
Presale End Date
December 10th, 2023
Token Type
ERC-20, Ethereum
Features
Bitcoin Minetrix is the first Stake-to-Mine ERC-20 token! Bitcoin Minetrix introduces the first Stake-to-Mine methodology, eliminating the need for purchasing cash contracts from mining companies, removing the danger of directly losing funds in contract down payments, whilst removing the skepticism surrounding cloud mining.
Users can purchase during the presale or after on DEX/CEX tokens and stake BTCMTX tokens to gain cloud mining credits. Cloud Mining Credits are non-tradable ERC-20 tokens which can be burnt to be exchanged for bitcoin cloud mining power.
BTCMTX tokens can also be burnt directly for cloud mining credits. With those, users can get a percentage of mining revenue based on the number of the cloud mining credits and/or the amount of cloud mining power they own.
Core Team Georgi Tamaz
CMO