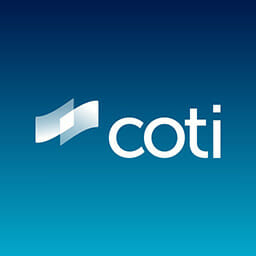 COTI
Hot
Whitelist
Description
Fintech company that is building a base protocol to solve the payments challenges of today.
Starting date
June 15th, 2018
Ending date
July 1st, 2018
Features
COTI is a FinTech company that has developed a base protocol, known as the Trustchain™, which aims to address technical challenges plaguing other
existing cryptocurrencies and limiting their mass adoption as means of payment. It includes consumer wallets, merchant processing tools and a
digital currency exchange facility.
The consumer-merchants payments industry is estimated to be a two trillion USD market however, it has been monopolized by Visa and MasterCard for the past 40 years. Nowadays, each transaction goes through 6-8 middlemen, each collecting a fee and potentially being a point of failure.
COTI aims to address such shortcomings by combining the best of traditional payment methods with the best of traditional currencies. COTI network users can expect low-to-zero fees, full buyer-seller protections, a robust Trust Scoring Engine, and decentralized Mediation System.onals
COTI's team includes top management and R&D talent, veterans of the financial industry and blockchain experts. Our team includes Steven
Heilbron (former CEO of Investec Bank UK), Dr. Matthew McBrady (former CIO of Blackrock), the founders of http://Processing.comProcessing.com> and early investors in Twitter, Square, Coinbase, Ripple.
Token Sale Hard Cap
$ 30,000,000
Token Type
ERC- 20 Ethereum
Token Distribution
42% Token sale - Privare, Pre, Public 10% Founders, Team, Early Backers, Advisors 6% Partners' network 7% Validators' incentives 11%Token liquidity for market-making 9%Opening balance for the Reserve Credit Fund (RCF) 12.5% Incentive program for Merchants and Users 2.5% Comuunity grants and partnerships
Initial Token Price
0.1 USD
Participation Restrictions
(1) the United States of America including its states, territories or the District of Columbia; (2) Israel; (3) Bosnia Herzegovina; (4) Syria; (5) Iran; (6) Ethiopia; (7) Uganda; (8) North Korea; (9) the People's Republic of China; or (10) any other jurisdiction We may add or delete from time to time in the light of the relevant watch lists and as per Our sole discretion.
Core Team
Tal Dadia
Research & Software Engineering

Erol Hallufgil
Research & Software Engineering

Yoni Neeman
Software Engineering

Eyal Wagner
Legal and Compliance

David Assaraf
Business Development (Co-Founder)

Samuel Falkon
VP Community (Co-Founder)

Erol Hallufgil
Research & Software Engineering - https://ww

Tal Dadia
Research Engineering

Yoni Neeman
Software Engineering

Yaniv Dadon
Software Development

Advisory Team
Dr. Matt McBrady
Steven Heilbron
Avi Chesed
Jon Avganim
Sebastian Stupurac
Stas Oskin
Theofanis Alexoudas
Dr. Zvi Gabbay
Prof. Martin Fochmann
Sean Melnick
Dr. Stephan Wessel
Dr. Stefan Hlawatsh
Greg Kidd - Former CRO, Ripple Labs - Adviser
Steven Heilbron - Former CEO Investec Bank UK - Adviser
Avi Chesed
Dr. Matt McBrady - Former CIO & MD BlackRock Adviser -