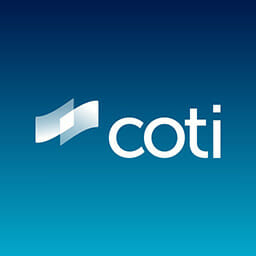 COTI
Whitelist
In the decentralized economy of the future, there is a need for a decentralized payment platform - meet COTI
Updates
15/04/2019
ICO Dates, and Token price updated
27/05/2019
COTI IEO Begins on KuCoin June 4th 2019
ICO Details
Starting date
June 4th, 2019
Ending date
June 14th, 2019
Token Sale Hard Cap
$ 30M
Token Type
COTI DAG native
Token Distribution
Token sale 30%


Incentives/ Liquidity/Reserve 45%


Team 15%


Advisors 10%


Initial Token Price
0.2 USD
Participation Restrictions
(1) the United States of America including its states, territories or the District of Columbia; (2) Israel; (3) Bosnia Herzegovina; (4) Syria; (5) Iran; (6) Ethiopia; (7) Uganda; (8) North Korea; (9) the People's Republic of China; or (10) any other jurisdiction They may add or delete from time to time in the light of the relevant watch lists and as per COTI's sole discretion.
Features
COTI is the world's first blockchain protocol optimized for decentralized payments, designed for use by merchants, governments, payment dApps and stable coin issuers. COTI Pay, our first app, already boasts a network of 5,000 merchants and 80,000 users.
COTI uses a DAG (directed acyclic graph) ledger to address the shortcomings of blockchain platforms that make them unsuitable for supporting mainstream and everyday transactional needs. 2
Core Team


Yoni Neeman
Software Engineering



Samuel Falkon
VP Community (Co-Founder) Eli Hallufgil
Research & Software Engineering - https://ww Yoni Neeman
Software Engineering Yaniv Dadon
Software Development

Advisory Team Dr. Matt McBrady
Former CIO,BlackRock Steven Heilbron
Former CEO Investec Bank UK Avi Chesed
CEO Processing.com Stas Oskin
WINGS Foundation co-founder Jon Avganim
President Processing.com Sebastian Stupurac
WINGS Foundation co-founder Lindsey Maule
CEO, Luna Capital Alex Yamashita
Partner TLDR; formerly Goldman Sachs Eugene Kan
Partner TLDR; former editorial director HYPEBEAST Ophir Gertner
Blockchain expert Jon Avganim
President Processing.com Dr. Zvi Gabay
Partner, Barnea & Co. Dr. Stephan Wessel
CEO Arcana Capital Theofanis Alexoudas
Advisor Prof. Martin Fochmann
Professor, University of Cologne Dr. Stefan Hlawatsh
CEO, Skybridge Investment Nimrod Lehavi
Co-founder and CEO, Simplex Gaurav Dubey
Advisor Kevin O'Hara
Group CIO, Tulla Private Equity Group