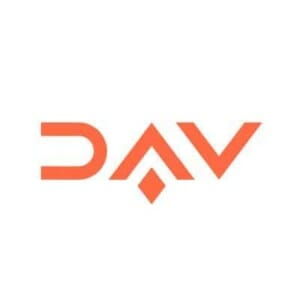 DAV Network
DAV is a blockchain-based transportation platform, enabling vehicles to discover, communicate and transact with one another using DAV tokens. **UPDATE - ICO raised 40,726 ETH. Token release Announcement will be after July 9th, Stay tuned.
ICO Details
Starting date
April 30th, 2018
Ending date
May 13th, 2018
Token Sale Hard Cap
$ 38,000,000
Token Sale Soft Cap
$ 5,000,000
Token Distribution
40% Token Sale Contributors
25% Bounties & Partnerships
20% Long term budget
15% Team & Advisors (vested)

Initial Token Price
1ETH = 10,000 DAV
Participation Restrictions
US, China, South Korea and Japan are restricted for the Token Sale
Features
DAV is a framework of open-source software, open-source hardware, and a free decentralized marketplace where anyone can buy and sell autonomous transportation services using the DAV token. Our technology consists of three major components:
Decentralized Discovery
DAV allows autonomous vehicles to discover each other, as well as service providers, and clients around them. DAV implements decentralized node discovery using a peer-to-peer protocol that does not rely on a central server. Instead, nodes are listed in a distributed hash table which can be accessed in an extremely efficient way.
Communication Protocol
DAV defines a library of standardized communication protocols for various transportation scenarios. This communication is divided into two groups:
- On-blockchain communication done directly by calling smart contracts and through events emitted by those smart contracts
- Off-blockchain communication done peer-to-peer using DAV's protocols
Trustless Cooperation Tools
Trustless cooperation between buyers and sellers of transportation services is achieved using a series of specialized smart contracts. These smart contracts enable multi-party contracts between buyer, seller, and when needed, between arbitrator, insurer, and others. These contracts are tied in directly to the DAV token, guaranteeing financial resolution for transactions between multiple parties without requiring any pre-established trust.
Advisory Team Dr. Alan Messer Dr. Scott Horowitz Jay Adelson Dr. Greg Colvin Priyanka Khaitan George D. Zamka