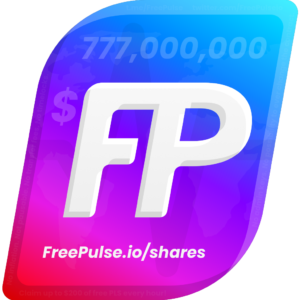 FreePulse.io – Claim up to $200 of free PLS / hour!
Hot
FreePulse.io is the best possible onboarding tool for PulseChain!
ICO Details
Starting date
April 22nd, 2022
Token Type
PRC20 on PulseChain
Token Distribution
There is going to be a Dedication Phase for the Freedom of Commerce - the freedom to freely transact, gamble, and share value uninhibited by any government. It's going to be short & sweet: only 1 week long. There will be a Volume Bonus (up to 2x), allowing large Dedications to gain more shares in the Dedication pool. As they are a beautiful set of people to airdrop something to, the Dedicated might receive a part of 77M FP in proportion to their shares in the Dedication pool. Note that said airdrop isn't guaranteed. Never expect profits from the work of others.

The date of the Dedication Phase will be announced 2-3 weeks in advance.

The past has shown that it can be worthwhile to start a Dedication Pool or join an existing one. Pools have always achieved very good results in past Dedication Phases. You get a mathematical advantage by joining a pool.

The first 2 FP Dedication Pools have already opened! You can join them right now by sending ETH, HEX, USDC, USDT, BUSD or BNB to 0x3fe4bb13f3e2e8581297464bd3c5efccd80bd23d or 0xa453c8b433f99c4ba628e44baadb00d4f24be4af.

More information on FreePulse.io/shares
Accepts
You will be able to dedicate ETH, HEX, PLS, PLSX, USDC, USDL, BUSD, BNB & MATIC. Other cryptos might get added as well.
Features
Claim up to $200 in free PLS every hour! Currently in a 3 months old Beta with more than 90,000 registered users FreePulse.io was founded by two Day-1 Hexicans who are giving away a significant part of their PLS holdings to grow the ecosystem. Freemium is an onboarding tactic proven to work, FreePulse.io is the best possible onboarding tool for PulseChain. Whenever the PulseChain.com Mainnet will launch (ETA is end of May) FreePulse.io will switch from their Beta on Testnet to Mainnet.
Features of FreePulse.io
- Claim up to $200 of free PLS every hour on the PulseChain Mainnet
- No personal information, no KYC/AML, no complex registration process or withdrawal problems!
- Generous referral system with 50% lifetime commission on all free claims to further amplify adoption
- Mini games, chat, unique usernames, badges, XP, instant & free withdrawals
- Working product on Testnet (currently operating with worthless Testnet-PLS which are not redeemable for Mainnet-PLS)
- Well-known founders
- Free, 100% Revenue Share PulseChain Validator, already working on Testnet with more than 22B TPLS staked
$FP Dedication Phase - Pools are OPEN now!
FreePulse.io will launch their own token on PulseChain called "FreePulse.io/shares" with the ticker $FP. There will be a 1 week long Dedication Phase round about 1 month after Mainnet launch. Dedicators might get FP airdropped. There will also be a Volume Bonus of up to 2x so Dedication Pools will have a mathematical advantage. 2 Pools have already collected more than $280,000 and you can join them right now!
Possible Utility of $FP
- Vote: FreePulse might become a DAO, meaning holders could get voting rights for new features.
- Claim: Holders might be able to claim more PLS per hour, get a lower house edge or even claim any PRC20 of their choice.
- Buy: 30% of all revenue might be used to buy FP from open market to create constant buy-pressure.
- Burn: The FP that might be bought could also be burned to decrease supply and increase everyone's share in the system.
The contract might have a vanity PulseChain address (0x7070707070...), just like the FP Treasury (0x7171717171...) to make them immediately identifiable. A mobile app might get released to check FreePulse.io accounts on the go. Such an app could also serve as a watch-only wallet for FP, including charts, the possibility to buy FP with any other cryptocurrency, price widgets, etc. More and more exchanges & coin ranking sites might support FP over time which would allow users to choose between a variety of fiat-onramps.
You must have no expectation of profit from the work of others. This is not financial advise, please do your own research!