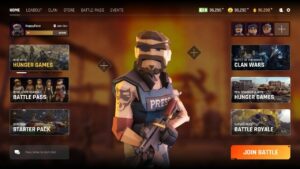 Hunger Chains: Revolution
Hunger Chains universe is an upcoming first-person shooter powered by evolutionary and community-driven tools, built on the top of blockchain to offer real ownership. Find yourself challenging in tournaments, world-cups, complete special operations with your friends and Clan members to earn coins and NFT's. Discover and collect ammunition, weapon, cities, pets, clubs, and much more!
Skill-based community shooter & metaverse with various PvP modes for players to enjoy is very ready to launch. The main shooter is based on a social strategy focused on city control, arenas, tradings, with a deep focus on clans, alliances and social mechanics. The game's economy rewards social behavior and is designed for an endless experience created by and for the community of players.
ICO Details
Starting date
February 18th, 2023
Ending date
April 2nd, 2023
Token Sale Hard Cap
$ $125,000
Token Sale Soft Cap
$ $20,000
Presale Start Date
February 18th, 2023
Presale End Date
April 2nd, 2023
Token Type
ERC-20 / Binance SC
Token Distribution
20% on TGE, then equal 4 months vesting
Initial Token Price
0.00167
Participation Restrictions
NA
Features
Our key points of competitiveness are: original in-game economic model; strong strategic partnerships; big variety of game modes + custom settings; using latest technology standard like a LayerZero to widen our exposure and community experience; focus on the interaction of players with each other, and on the community as a core; however these are only parts of our global Vision and philosophy at the way to success.