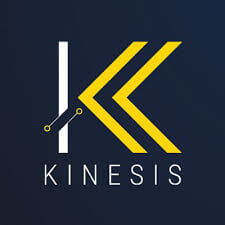 Kinesis
Kinesis is a yield-bearing digital currency based on 1:1 allocated physical gold and silver. The vision for Kinesis is to deliver an evolutionary step beyond any monetary and banking system available today.
ICO Details
Starting date
September 10th, 2018
Ending date
March 17th, 2019
Token Sale Hard Cap
$ 300,000,000
Token Sale Soft Cap
$ 15,000,000
Token Distribution
Kinesis Community 70%

Reserve 10%

Founders & Management 9%

Advisors 5%

Bounty Campaign 3%

ICO Marketing 3%

Participation Restrictions
USA Accredited
Features
Kinesis has introduced yield-bearing digital currencies, based 1:1 on physical, allocated, gold and silver. When you purchase Kinesis currencies, you are simultaneously allocated real gold or silver stored securely in one of several third-party vaults around the world ensuring no counterparty risk. These digital coins (KAUs represents the gold-based coin and KAGs represents silver), can easily be spent at point of sale through the Kinesis debit card, allowing users to make fast and safe transactions. Holders of Kinesis currencies can redeem the coin and take delivery of the underlying physical precious metal guaranteeing intrinsic value with this cryptocurrency.
Advisory Team SHANE MORAND
Marketing Consultant ANDREW MAGUIRE
Precious Metals Specialist PÁDRAIG SEIF
Advisory Board Member AXEL PAUL DIEGELMANN
Co-founder - LPM Group WILLIAM KAYE
Senior Director of PGL