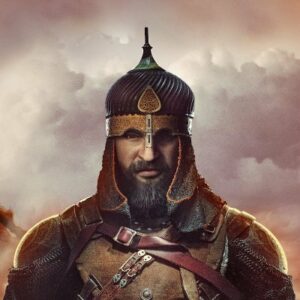 Medieval Empires
Hot
Medieval Empires-Ertugrul is a mid-core multiplayer online blockchain Play&Own strategy game featuring internationally acclaimed actor Engin Altan Düzyatan as Ertuğrul Gazi; aiming to provide a state-of-the-art open to all Web 3.0 experience to fans and gamers as well as blockchain and crypto enthusiasts.
ICO Details
Starting date
December 19th, 2022
Token Sale Hard Cap
$ 702000
Token Type
ERC20 / PRC20, Polygon
Token Distribution
Token Supply: 3,000,000,000
Project Valuation: 27,000,000
Initial Token Circulation: 78,000,000
Initial Market Cap: 702,000 USD

Seed 420,000,000
Private 210,000,000
Public (TGE) 120,000,000
Play & Earn 600,000,000
Exchanges 150,000,000
Treasury (dev, Ops, Marketing, Airdrops) 870,000,000
Advisors 150,000,000
Team 450,000,000
Social Projects 30,000,000
Initial Token Price
0,009 USD
Features
We are helping every player type loving strategy games (fighters, builders, traders) to first of all play a game that spawns and reaches players around the world, while at the same time, capitalizing on their time invested; by renting out their land to others, trading precious resources or by creating unique units and heroes, that can be traded on a market place. All that by offering a low-cost trading environment and by onboarding non-crypto users, through custodial wallets.
Medieval Empires combines the best and most proven Features from Strategy games with the opportunities that Blockchain offers - a historical setting allows for landlords and tenants, buildings towns, leading armies and fighting for control on a massive 13th century map. Builders, Fighters and Traders will play as individuals or guilds to form unique and ever-expanding empires.
What makes the project unique?
Growing world map
From release onwards and over time, the world map will continue to expand. New lands will be added, reaching from Europe and Africa, via Middle East all the way to Asia.
Evolving Hero System
Heroes are a fundamental part of the game: during the continues development of Medieval Empires, more and more system, like gear, will be added to the depth of hero gameplay. By that, players have the chance to develop their unique heroes and lead them either into battle or sell them on marketplaces.
Unique Setting
While the Medieval Age is not unique as such, focusing and highlighting on the Middle Eastern part and using the Turkic area as starting point, delivers a new angle and allows for a new historical setup and direction.
Regional battles that define map development
Next to PvE Land, the game will offer PvP and event counties. The individual interactions of the players will define the use and development of such counties. Conquering them for the own faction, can ultimately lead to a shift of powers within that region.
DeFi Staking Mechanisms (VIP System)
Making use of the companies MEE Token, the player has the chance to stake them in game. That will allow to not only having the chance of participating in air drops but also receive game specific benefits, such as boosts.
Renting out land
Medieval Empires does not only allow to sell resources, to make up for land investments but also to rent out the land to other players. By that, the owner of land will have the possibility to generate a passive income, to make up for his/her investment.
Single shard, persistent game world
This mechanic will allow for seamless game experience and cooperation between all players. Everyone on the map will see the same universe of Medieval Empires, without any cut into the user experience.
True cross platform gameplay
Medieval Empires will be shipped as desktop but also mobile version, with true cross-platform gameplay. The same account can be played, either sitting at home on the PC or while being on the way to work, sitting in the subway.
Trading marketplace for any kind of resource
Medieval Empires will provide an own marketplace to trade anything NFT, that comes out of the game – may it be land, heroes, resources and much more. The users could also trade their NFTs on other marketplaces, using the Polygon chain, if they wish to.
Advisory Team Josh Meier
MANAGING DIRECTOR OF ANDROMEDA CAPITAL Scott McCarthy
Former CMO at Illuvium & Crypto Game Advisor Oliver Kern
CRYPTO GAME ADVISOR / COMMERCIAL OFFICER LOCKWOOD PUBLISHING LTD Justin Edwards
FORMER COO DECENTRALAND ADVISOR Hüseyin Yılmaz
PROFESSOR OF HISTORY / PHD FROM HARVARD UNIVERSITY Ararat Arpaci
JEWELRY DESIGNER