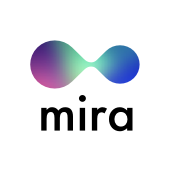 Mira
Mira is an easy and convenient way to buy, store and send cryptocurrency.
ICO Details
Starting date
April 20th, 2018
Ending date
May 20th, 2018
Token Distribution
Maximum emissions 30,770,000 MIRA
Total amount to be sold 24,000,000 MIRA
Pre-ICO 3,300,00 MIRA - 0,6$
FIRST 4,500,000 MIRA = $0.7
4,500,000 MIRA = $0.8
4,500,000 MIRA = $0.9
7,200,000 MIRA = $1.0
Participation Restrictions
No USA residents, and China (until they lift the ICO ban).
Accepts
BTC, LTC, ETH, DASH
Features
Mira is a software suite for buying, storing and sending cryptocurrencies in an easy and convenient way. The key element of the service is MiraBox, the encrypted container file, that can store one or multiple types of tokens off-chain, providing better protection for savings than any third-party storage, like exchanges or wallets. Buying and sending cryptocurrencies in MiraBox is as simple as downloading and sending a regular file, which makes it available for users with any level of technical expertise.
Advisory Team Alexander Ivanov Eugene Radchenko