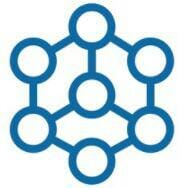 NWP Solution
Healthcare Ecosystem on blockchain managed by individuals
ICO Details
Starting date
August 1st, 2018
Ending date
December 1st, 2018
Token Sale Hard Cap
$ 700,000
Token Sale Soft Cap
$ 300,000
Presale Start Date
April 30th, 2018
Presale End Date
June 15th, 2018
Token Type
Ethereum ERC20
Token Distribution
ICO Participants 43%
Future partnership reserve 31%
Team 15%
PreICO Participants 7%
Advisors and partners 3%
Bounty campaign 1%
Initial Token Price
Pre sale : 1NWP = 0.01 USD
Participation Restrictions
USA
Accepts
BTC, ETH, LTC, Dash
Features
NWP solution, the Estonia-based company creating Intellectual healthcare ecosystem, will hold an Initial Coin Offering (ICO) for a revolutionary healthcare project. In total, the company aims to collect USD 20 million during the token sale.
The NWP solution is a platform that integrates smart devices and databases into a single network that provides access to existing healthcare and quality of life services. The platform is built on advanced technologies in the field of artificial intelligence , data security and blockchain.
As part of the project, NWP Solution launches the smart bracelet — NiteWell for the monitoring of the health of newborns from 0 to 12 months. The bracelet collects data on the state of the heart rhythm, patterns of motion, body temperature and the environment that will form the basis for an active child care system in the first year of his life.
- Presale Price: $0.01
30% bonus for Early Birds
The platform provides an opportunity for its participants to solve their important tasks — ensuring their health and the health of their loved ones on the one hand and optimizing the costs of clinical health care, insurance, or purchase of drugs with another. Users are given a unique opportunity to participate in research and development, providing data for the analytical tasks of participating companies, as well as blockchain technologies that ensure integrity, safety, and, most importantly, transparency in the use of the accumulated knowledge base.
To satisfy legal requirements NWP tokens are not securities, dividends will not be paid to their holders. In this regard the part of commissions received by the platform will be used for guaranteed purchase of NWP tokens on exchanges with subsequent destruction. Regular decrease of token quantity in the market will stimulate the increase in the rate of NWP token on exchange.
NWP token will be used for service payments. Along with the regular increase of operations quantity in the system, the demand will be increasing as well as NWP rate.
Independent international auditors and consultants will be engaged in the storage control and expenditure of money collected during ICO.
NWP solution is an Estonian-based company. The NWP team has been working in healthtech for already more than 7 years, successfully created LABORATORY INFORMATION SYSTEM OF THE 5TH GENERATION.
Core Team Alexander Frolov
CEO & Founder Charlie Schick
Co-Founder & Project Leader Andrey Shipilov
Lead Architect Developer Omar Chikovani
Head of Product Alexander Preobrazhenskiy
GR / Legal Counsel Vadim Nikolaevich Shvalev
Medical Consultant
Advisory Team Warren Whitlock Gene Libov Danil Kislinskiy Dmitry Shmakov Alex Linenko Sergey Repko