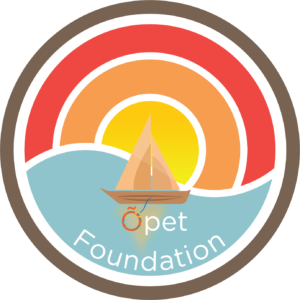 Õpet Foundation
Hot
Whitelist
Blockchain + AI + Chatbot = Global Education Inclusion
ICO Details
Starting date
October 1st, 2018
Ending date
December 31st, 2018
Token Sale Hard Cap
ETH 60000
Token Sale Soft Cap
ETH 10000
Presale Start Date
September 1st, 2018
Presale End Date
September 30th, 2018
Token Distribution
Token Sale: 40%
Partnership: 14%
Team & Advisors: 30%
Network Incentive for OPET: 15%
Bounties: 1%
Initial Token Price
1 OPET = 0.002 ETH
Participation Restrictions
China, Canada, USA
Accepts
USD (Only for Pre-sale), ETH
Features
Bringing Blockchain + AI + Chatbot technologies to the realm of education. Seeking to advance the vision of Global Education-Inclusion and addressing the income/class divide by enabling equality of opportunities through education via disruptive technologies.
Blockchain and AI Use Case
- Main Problem - Cumbersome, inefficient and opaque tertiary admission process:
Solved with a global distributed ledger with one true source of high school student records - tamper free and accurate.
Imagine a smooth process where applicants just provide a private unique hash key via the college's online form instead of repeating submission process for all tertiary institutions or snail-mailing hardcopies of admission documents worldwide.
Aim to achieve rapid populating of ledger with data by addressing the 2 immediate pain-points of students as follows.
- Growing income/class divide as wealthy/privileged families can afford expensive private tuitions for the very same National Examinations that lesser privileged households cannot afford.
Solved by deploying our proprietary AI chatbot to deliver an affordable (at 1/10 to 1/20 price of existing private tuition) digital companion for their effective revision of high school exam curriculum.
- High School Students' confusion as to what to do after high school, unaware of global options they don't even know exist:
Solved by utilizing our Õpet chatbot to collect college admission data stored on blockchain and our backend Adaptive Recommendation system to recommend best-suited global universities and courses of study to our users.
- Fiat-based education-related philanthropy has faced the intrinsic hurdle of "hijacking" by intermediaries involved, including potentially inefficient, ineffective, corrupted parties or even family members who took the fiat-based grants from their children to address more immediate needs like bread and milk supplies.
Solved with Donors going to independent and reputable crypto-exchanges to purchase Opet Tokens (OPET) and deliver them directly to the digital wallets of the poor students, where they can use the tokens to pay for digital tutor companion services to supplement their national examination revision, and the Donor has Direct Visibility into the records of the beneficiary's academic + other student records including co-curricular activities records, and their usage of the tuition service (Full Transparency and Accountability)
Key Partnerships
- Strategic Partnership with University of Cambridge - Judge Business School's Psychometric Center for the use of their Psychometric Profiling tool, which will assist high school students in their college application process.
- Strategic Partnership with American University of Central Asia, supported by George Soros' Open Freedom Society, Andrew Carnegie Foundation, and several other Supranationals, for rolling out our Õpet app to high schoolers in the countries of Central Asia.
- Strategic Partnership with World Capacity Builders, Inc (WCB), to distribute Õpet's products and tokens globally given its engagement and vast network of world leaders and impact investing organizations, ecosystems, connections, as well as its proprietary and licensed communications and payment platforms.
- Venture Capital Network, a Recognized Sponsor of Gibraltar Blockchain Exchange (GBX) will be our official Sponsor to list us on GBX (100% owned by Gibraltar Stock Exchange and fully supported by the government of Gibraltar).
- Listing paths also identified for LBank and HitBTC (Top No. 7 and 8 on Coinmarketcap by Volume).
Crypto/Token Economics
Õpet's cryptoeconomics holds much potential as the network incentive pool will be used to incentivize the participating institutions to help verify records submitted by students ensuring veracity and to incentivize community to assist in creating and curating relevant curriculum content from all online sources to enrich upper secondary learning experiences. (Eg Users are rewarded with tokens for submitting exam revision notes or curated YouTube videos or social media content relevant to requisite curriculum).
- US$5 trillion Evergreen Education Industry and TAM of 400 million students with Multiple Use Cases and Open-Loop Blockchain Design for Network Effects.
Due to the fixed total supply the value will be determined by the Õpet team's efforts to increase the applications and use cases, moving the demand curve substantially and continuously upwards.
Core Team


Ameya Kulkarni
Co-Founder, CTO & Chief Data Scientist



Viacheslav Shybaiev
Blockchain Specialist and Solutions Architect



Nicholas Ivanov
Blockchain Developer



Boris Serebrov
Software Developer



Oleksandra Burmenska
Project Manager



Jenny Frances
Global Digital Marketing Team Lead



Gabriel Tan
VP, Finance and Operations



Joana Camille C. Casucian
Content Marketing Lead

Advisory Team Karthik Iyer
Founder & CEO of BlockchainMonk, Leading Global Blockchain influencer, India Ambassador to P2P Foundation Samson Lee
Founder & CEO of CoinStreet, Chief Crypto-economic Consultant of Gibraltar Blockchain Exchange, Founding Executive Chairman of China Greater Bay Area TechFin Association Michael Creadon
Founder & CEO of 4Rev, Influential US-based Crypo-investor and TGE/STO Advisor Julian Peh
CEO, Co-Founder, Aditus Networks, Entrepreneur, Lawyer with 20 years' experience in Technology, Tokens, Marketing / Media, Luxury, Rewards Data Systems Darius Sit
Managing Partner, QCP Capital Maximilian Kobernik
VP Global Partnerships of CoinStreet, Head of Investor Relations, Play2Live Nikita Sachdev
International Model, Founder of Event Talents, Leading Asian Crypto-Influencer, Õpet Brand Ambassador Dr Gunnar Lee-Miller
COO, Mission Driven Developmentb (Los Angeles, CA, USA); Expert Leadership Coach and Mentor Dr James Ong
Founder and CEO, Origami Frontiers; Member, China National Artificial Intelligence ("AI") Select Committee Susan Teh, Founder
STBG Pte Ltd and ST Paramount Pte Ltd Jayarethanam Pillai
Division Head of Business and Dean, School of Entrepreneurship and Business Administration, American University of Central Asia Ms Bharti Dhar
Principal, Pune International School, Educational Specialist Lim Boon Tat
Education Specialist, Former JC Vice-Principal, Singapore Ministry of Education Officer; Co-Founder, Grdient Edward Ismawan Chamdani
Managing Partner & Cofounder, Ideosource Incubator, Leading Indonesian Crypto-Influencer