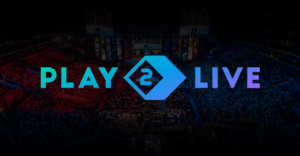 Play2Live
UPDATE: Play2Live are negotiating with Tidex, Liqui, HitBTC, LiveCoin, Exmo, Yobit, Kuna, Bittrex, Huobi and Binance so far. More info on LUC in 30-60 days after the token sale. For more info: https://t.me/play2live
ICO Details
Starting date
February 12th, 2018
Ending date
March 5th, 2018
Token Distribution
Total supply of token, for crowdsale, team etc:
Maximum amount of tokens to issue: 1 308 800 000 (the resulting amount of tokens is determined after the end of token sale)
Sold on the open market: 62.5%
Operations funds: 11.1%
Founders and project team: 10.4%
Partners of the project (eSports teams, tournament organizers and streamers): 7.8%
Advisory Board: 7.2%
Bounty campaign: 1.0%

Initial Token Price
LUC / USD: 20 LUC for $1
Features
Concept description:
Driven by blockchain technology, Play2Live creates an ecosystem for streamers, viewers, tournament organizers, and product/service partners. Play2Live introduces a unique mixture of 15 interactive features and monetizing tools for the users of the platform versus 4-5 available on the existing solutions. Play2Live allows viewers to earn a token reward by just watching gaming streams, sharing internet channel via P2P CDN service, enabling advertising and much more. Streamers can fine-tune the properties of economy between them and the users. The utility token (Level Up Coin) is a fuel that allows for this degree of heightened interaction.
How does the project create value to the ecosystem and differs from competing projects:
Play2Live platform is designed to provide a comprehensive solution for streamers, viewers, tournament operators and partner projects:
All users of streaming platforms demand the solutions, which would better regulate P2P relationships, including commercial ones.
Advertising is persistent and usually there is no option to disable it. The users are frustrated with the advertising and try to avoid it in any possible way.
Streamers expect to start earning money just after the registration in the system and wish to have more tools to monetize their streams better.
Users are frustrated with advertising and try to avoid it at any cost – thus, the time has come for a new solution enabling them to choose whether to watch advertising at all.
Gamers want to be able to have an influence on the scenario of a stream and an opportunity to directly engage in content generation on the platform.
Ultimately, we develop an ecosystem that allows viewers (not only streamers) to earn in 5 ways. The streamer can fine-tune the economic properties of interaction with users and has 11 ways to earn the reward (versus 4-5 on existing solutions such as Twitch.tv). The value is created via the utility token (it can be spent in 15 ways on the platform overall), which would also increase the number of crypto wallets since we automatically create a wallet for each user registered in the system.
Likewise, we would encourage other eSports crypto projects to partner up with us since our product is deployed on the basis of own blockchain, Level Up Chain. We can thus create an ubiquitous ecosystem for eSports projects where Play2Live will be the first project.
Advisory Team David Drake Can Yang Aladin Ben Anton Agranovskiy Richard Kastelein Victor Martyn Greg Limon Stan Milc Reuben Godfrey