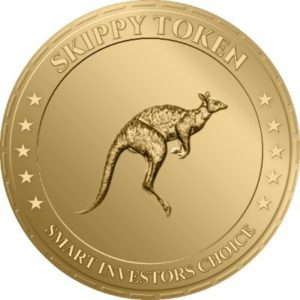 Skippy Token
Skippy Token is an Australian first utility token developed by technology enthusiasts, entrepreneurs and financial experts.
A cryptocurrency with a one stop shop solution to meet consumers lifestyle and needs.
It is based on a revolutionised idea to focus on making consumers the centre of the experience.
ICO Details
Starting date
January 10th, 2022
Ending date
January 23rd, 2022
Token Sale Hard Cap
$ 5,000,000
Token Sale Soft Cap
$ 3,500,000
Presale Start Date
January 10th, 2022
Presale End Date
January 23rd, 2022
Token Type
BEP-20 Binance Smart ChaIn
Token Distribution
TOKEN DISTRIBUTION:

- Licensing and Legal 5%
- Business Partners reward Pool and Skippy Platforms 10%
- Liquidity supply for Skippy Platforms 20%
- R & D & Product development 10%
- Marketing & Community Development 12.5%
- Public Sale in DEX (PancakeSwap) 7.5%
- Private & Pre-Sale / ICO 30%
- Founding Team 5%
Initial Token Price
0.016 USD
Participation Restrictions
No
Features
SKIPPY is a BEP-20 standard utility token build on the robust Binance blockchain and deployed in to the BinanceSmart Chain (BSC) network. The main purpose of SKIPPY is to provide liquidity for all Skippy business platforms such as Skippy Go, Skippy Apparel, Skippy Marketplace and the Multi Currency Wallet. The Skippy protocol token is built upon trust and designed for the community.
BUSINESS USE CASES:
* Skippy GO - Travel & Accommodation platform for crypto lovers
* Skippy Apparels - Online Fashion Retail driven by crypto payment
* Skippy Coin Market- Market place for crypto project and investors
* Skippy Multi Wallet - Manage all your crypto assets in one place
PROBLEMS and SOLUTIONS
The world is undergoing an unprecedented digital transformation which has created opportunities for new business models and redefined the way business operates. As a result of this revolution, Blockchain Technology has emerged. Blockchain Technology is reaching every industry and transforming centralized marketplaces to decentralised marketplaces.
The economy is constantly changing to adapt to the modern-day lifestyles driven by consumption. From food, to fashion to travel, consumers are changing the way they spend. Consumers seek experiences and not just merely products. This is a result of the effect that technology has had on consumers. Millennials are tech-savvy, which enables them to acquire extensive information prior to making any purchase.
FEATURES OF SKIPPY TOKEN
KIPPY TOKEN REWARDS - 3% transaction tax offered as Skippy Token rewards to all Skippy Token holders.
AUTO LIQUIDITY MAKER - 3% transaction tax converted to BNB and added back to DEX liquidity pool to strengthen
 BNB reserves.
ANTI-WHALE DUMPING MECHANICS - Maximum cap implemented to prevent whale dumping. Maximum sale order per transaction is 10M SKIPPY Tokens.
AUTOMATIC BURN - 1% SKIPPY Tokens from every transaction burned automatically as a result circulation decreases while demand increases.
DEX LIQUIDITY LOCKED FOR 5 YEARS - 75% ICO funds allocated to PancakeSwap liquidity and locked for 5 years by a third party company.
SKIPPY LIQUIDITY POOLS - Exclusive Skippy reserves for community development, business partners and user cashback rewards.
Core Team Fred Kher
Founder & CEO