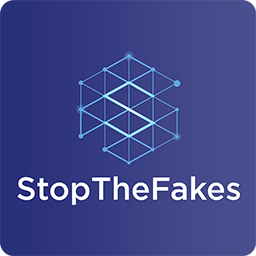 StopTheFakes
Anti-Counterfeit & Copyright Infringement BLOCKCHAIN SERVICE **UPDATE - ICO has ended and now they are listed on Etherdelta & ForkDelta!!
ICO Details
Starting date
March 21st, 2018
Ending date
April 21st, 2018
Token Sale Hard Cap
$ 8.5M
Token Sale Soft Cap
$ 675,000
Presale Start Date
January 21st, 2018
Presale End Date
February 21st, 2018
Token Distribution
4.5% pre-ICO: 1 305 000
69.9% ICO: 20 271 000
10% Reserve funds: 2 900 000
5.6% Bounty and Affiliate program: 1 624 000
5% Team: 1 450 000 (Frozen for 6 month)
5% Consellors / Avisors: 1 450 000 (Frozen for 3 month)

Initial Token Price
1 ETH = 2400 STF
Participation Restrictions
USA & Belize
Features
StoptheFakes has created a user-friendly and affordable Blockchain service for everyone to track and record cases of illegal use of their logo, trademark or any other intellectual property and to take immediate action to eliminate the infraction!
The world's first decentralized service to detect counterfeiting and infringement of intellectual property rights, copyright, and relevant rights. Their project aims to bring together right holders and consumers in their fight against piracy products and content. Companies will have the opportunity to detect, localize and document violations of their rights quickly and efficiently, and law-abiding consumers will be rewarded for their assistance in combating piracy.
Our team is on an ambitious mission: to create a global system facilitating the fight against counterfeiting and piracy all over the world. Our goal is to minimize the cost of detecting violations and help brand owners to come into direct contact with consumers. Fighting against violations of intellectual property rights will result in reduced advertising expenses and increased profits for law-abiding companies while hitting organized crime hard.
Our short-term plan is to build a system that will destroy the multi-billion counterfeit market. The Blockchain technology was initially developed to exclude the possibility of counterfeiting, changing or altering information about transactions. Most transactions carried out in the world are related to the sale of goods and services. We want to enforce law and transparency on the global market and strive to provide small companies and private entrepreneurs with the same opportunities to fight counterfeiting that only big brands can afford now.
Advisory Team Ismael Arribas Mikhail Gorshkov Alexander Nekipelov Igor Slabykh Elia Planas Gabriel Vladimir Sokolov Yevgenii Okhotskii Maria Fontanillas