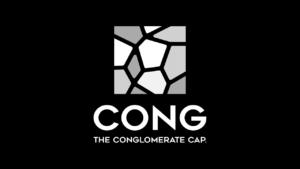 The Conglomerate Capital
Hot
TCC is a web3, BEP20 blockchain-based investment and funding platform, governed by a Decentralised Autonomous Organization (DAO), from which disruptive startups as well as SME businesses will raise capital, where investors will be able to access Venture Capital and Private Equity outstanding opportunities through the CONG token.
ICO Details
Starting date
January 16th, 2023
Ending date
December 15th, 2023
Presale Start Date
January 16th, 2023
Presale End Date
February 28th, 2023
Token Distribution
Presale round 1: 1,000,000,000 CONGs.

The key concept of the token allocation distribution is a corporation-type structure of CONG holders where any group cannot hold more than 20% of the tokens. This means that any entity or person has no controlling/majority in the ecosystem.

The distribution of tokens throughout the funding phases of the project was created to concentrate at the team and tech development in the first stages. This needs to be done as both areas are mandatory to start the project.

Thus, in the seed phase, we are bootstrapping the Company so tight cash burn must be managed therefore important part of the initial team´s compensation must be done in token. That contributes to the alignment of interest from the beginning.

As raise rounds go, allocation moves towards a corporate structure which, by concept, allow as to perpetuate the project under a decentralized manner.

Initial Token Price
0.0025
Features
TCC is a web3, BEP20 blockchain-based investment and funding platform, governed by a Decentralised Autonomous Organization (DAO), from which disruptive startups as well as SME businesses will raise capital, where investors will be able to access Venture Capital and Private Equity outstanding opportunities through the CONG token