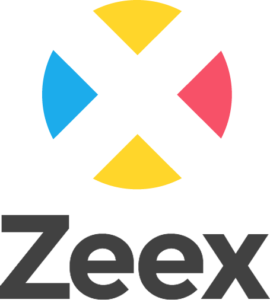 The Zeex Protocol
The Zeex Protocol lets you buy real-world products and services from hundreds of global brands using crypto, without fiat or fees.
ICO Details
Token Sale Hard Cap
$ 50,000,000
Token Sale Soft Cap
$ 14,000,000
Presale Start Date
July 5th, 2018
Presale End Date
July 6th, 2018
Token Type
ERC-20 Ethereum
Token Distribution
Token sale 50%
Partnerships 20%
Team 15%
Reserved 10%
Community 5%
Initial Token Price
0.0002 ETH
Participation Restrictions
US Citizens, Israeli Citizens, North Korean Citizens and Lebanese Citizens are restricted from participation
Features
Zeex is the world's first fintech company that allows everyday shopping with crypto in a simple,
intuitive, and decentralized way. So far, routine usage of crypto has been limited by its relative
illiquidity, heavy usage friction, and the continued reliance on fiat currency. By linking crypto to
the gift card economy, Zeex creates a large-scale liquidity network and thereby makes everyday
purchases with crypto a matter of a few quick taps. Decentralized, encrypted, frictionless, and
without any fees or fiat money involved.
The Zeex protocol operates on an open source Smart Contract
that ensures transparency and security. The Zeex Protocol is
the first to bring off-chain assets onto the blockchain and let
the masses access and spend their crypto online and offline.
This also opens a whole new market to the gift card providers
- enhancing their business while benefiting consumers,
thus creating a win/win situation for all the parties involved.
The decentralization is enforced through an automatic and
irreversible transactional flow that lets you skip the middleman,
offering a safe, anonymous, and instant shopping experience.
Our first goal will be fulfilled with the initial launch of Zeex: building an intuitive, user-friendly
shopping platform for crypto holders on the rails of the gift card industry. But there is more to come.
Our next goal is to integrate Zeex with leading cryptocurrency wallets. Furthermore, we will enable
smaller merchants to enter the Zeex ecosystem autonomously by giving them further incentive to
join the lucrative prepaid market, which means crypto holders will enjoy endless opportunities to use
their crypto for purchases in their daily lives. Finally, it is our vision for the future to revolutionize the
prepaid industry entirely by introducing blockchain technologies at the point of sale.
The prepaid gift card industry, a $700B industry that's expected to double in volume in the next 5
years, will be made far more secure and simple at a fraction of what contemporary security measures
cost.
Advisory Team Eyal Hertzog Sebastian Stupurac Adrian Lai Sonic Zhang Ken Shishido Mai Fujimoto, Miss Bitcoin Arturas Asakavicious Liron Langer Gigi Levy-Weiss