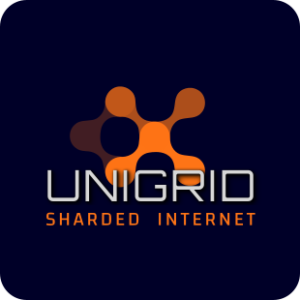 Unigrid
Hot
Presale
The Unigrid Foundation aims to build a low-level backbone for a truly decentralized Internet.
Updates
04/11/2021
Window for angel seed investments closes November 30'th right before the open sale begins
ICO Details
Starting date
December 10th, 2021
Ending date
January 31st, 2022
Token Sale Hard Cap
$ 20000000
Token Type
https://sale.unigrid.org/
Token Distribution
Sales Rounds - 63%
Unigrid Foundation - 32%
Legacy Token Holders - 5%
Initial Token Price
$1 USD
Participation Restrictions
No restrictions
Accepts
BTC, ETH, USDT, USD, EUR, SEK
Features
Data Storage: All data on the network will be fully decentralized and accessed at any time - the data will be sharded across the network gridnodes and parity blocks will be used for redundancy. Anyone can store data on the network, but businesses that store large amounts of data centrally or via cloud services like governments, medical records, banks, etc. will benefit the most, where their data will always be accessible, secure and will only cost a fraction of what they are paying today to large corporations. No existing blockchain is doing this today.
Anonymous Internet: Anyone will be able to surf the internet like they do today on the Unigrid network, but the benefit will be that their activity will be totally anonymous. Therefore, no separate VPN service would be required.
Existing / Future Blockchains: Any existing or future blockchain projects will be able to be deployed on top of Unigrid. The network will create blockchains on-demand and will re-balance automatically; a first of its kind in the blockchain space. Projects will be targeted to deploy on Unigrid.
Existing Infrastructure: Unigrid already has an existing Blockchain, Explorer and Wallet that have been running for a few years. When the network is expandanded to add the above features, it will be easy to deploy these new services.
NFTs: Unigrid is developing a Unigrid Comic Book where comic issues will be minted into NFTs to help bring awareness to the community from the wider crypto space. Please visit these links for a preview of what we are delivering --> https://decentralize.wtf/ ; https://www.tiktok.com/@decentralize_nft?