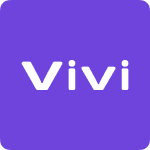 Vivi
Vivi is a decentralized platform for short video content, allowing creators to share and earn rewards, and viewers to monetize their time while ensuring security, privacy, and fair rewards distribution, also with NFT glasses to increase user engagement and rewards.
ICO Details
Starting date
February 6th, 2023
Ending date
April 15th, 2023
Token Sale Hard Cap
$ 312,800
Token Sale Soft Cap
$ 156,400
Token Distribution
1) Influencers Allocation - 76 000 000 / 20% at TGE, then 13.3% over 6 months
2) Private Sale - 46 000 000 / 20% at TGE, then 13.3% over 6 months
3) Presale - 40 000 000 / 20% at TGE, then 13.3% over 6 months
4) IDO - 28 000 000 / 20% at TGE, then 13.3% over 6 months
5) Marketing & Partnership - 120 000 000 / 4,5% at TGE, then 7,96% over 12 months
6) Treasury - 146 000 000 / 2,08% over 48 months
7) Liquidity - 50 000 000 / 5,83% over 12 months
8 )Team - 100 000 000 / Cliff for 12 months, then 1,38 % over 72 months
9) Farming & Rewards - 350 000 000 / 1,67% over 60 months
10) Advisors - 40 000 000 / Cliff for 6 months, then 8,33% over 12 months
Initial Token Price
0.006
Features
Introducing Vivi, a decentralized platform for short video content that aims to provide a new and innovative way for creators to share their videos and earn rewards, while also allowing viewers to monetize their time on social media. The platform operates on a decentralized structure, ensuring the security and privacy of user data and a fair distribution of rewards among creators.
One of the key features of Vivi is its focus on short videos, which makes it ideal for sharing fast and interesting content such as makeup tutorials, cooking videos, and more. This sets it apart from other platforms that may have a broader focus and can make it difficult for creators to stand out and gain visibility.
Another unique aspect of Vivi is the use of NFT glasses and VRV and VIVI these tokens are used to reward users for their engagement on the platform, which will not only increase the rewards for users but also to increase the value of the token.
Vivi also will be has two more applications, Vivi Live Stream, which is a decentralized streaming platform that uses blockchain technology to encrypt and secure user data, ensuring that it is not vulnerable to hacking or data breaches. Fair distribution of rewards is also carried out via a consensus-based system and censorship resistance.
Vivi Sport is the second application developed by Vivi-Tech which is a decentralized sports application where users will be able to create content around the world of sports. Post short videos of the best sports moments of any year, and create NFTs for videos of that moment as they edited the video itself. Watch the games of your favorite teams live and capture the best moments of the game in the application itself. As well as the function of viewing with other users and betting on the outcome of the game together.
In conclusion, Vivi offers a new and exciting way for creators and viewers to share and discover short video content, while also providing an opportunity to earn rewards. With its decentralized structure, use of NFTs, and additional features such as live streaming and sports betting, it provides a more secure and fair environment for all users.
Core Team Jhon Proct
Vivi General Art Director Christian Cruz
Vivi Team-Lead Developer Jhon Sacs
CFO